Avaya Phone Systems
Partner ACS (Advanced Communication System)
Named as Teleconnect Magazine's "Product of the Year" the Partner ACS is the #1 selling phone system in America, with advanced features at an affordable price. It is reliable, expandable and easy to use!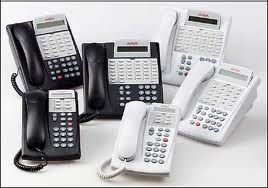 System Highlights:
Automatic routing of calls directly to your sales or service groups
Caller ID options that can interface with your PC to automatically retrieve customer records before you answer the phone. (CTI)
True mobility with connection of 900mhz multi-line wireless phones
Basic and advanced auto attendant and voice messaging options
Direct connection of fax or answering machines, credit card readers, & modems
Telephone activation of electronic devices (e.g. gates, doors, lights)
Remote service and system administration capabilities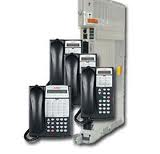 Partner ACS Hardware Overview:
Approved for business or home based offices
Grows to 15 incoming lines and 40 extensions
Digital architecture
Convenient modular design allows ease of growth, upgrade and service.
Choice of single line or Partner multi-line speaker phones (black or white):
6 button, 18 button, 18 button display, 34 button display, Wireless pocket phone.
All Partner phones have fixed intercom, hold, transfer, two-way speakerphone, conference, mute and 3-way volume control buttons, plus message lamps and pull-out instruction tray. Back-lit, adjustable displays give time, date, day, number called, call duration, & inside or external caller name/number (with subscription to Caller ID service). Multi-lingual display (English, Spanish, French) options.
Partner ACS Features (partial listing of over 100 features):
Call coverage (to another extension or voice-mail)
Caller ID (with subscription to caller ID service)
Caller ID logging & dialing (stores caller ID records and automates redialing)
Call forwarding/Call follow me (directs calls to another system extension)
Contact closure support (e.g. for optional electronic door or gate opening)
Direct connection of most fax, modem, answering machine, credit card scanners or single line phone to any system extension. No need for dedicated lines!
Group call distribution (directs calls to a group of extensions, to ring simultaneously or consecutively. E.g. a customer service group)
Hospitality features for Bed & Breakfasts, motels, & inns
Line pooling (sharing multiple lines on one telephone button) or individual line access.
Music on hold capability (music source optional)
PC card software upgrades (for economical future feature upgrades)
PC card backup and restore (protects your system programming)
SMDR talk time (call records with actual talk time, excluding caller-waiting time)
Speed Dial (personal and system wide telephone number storage & quick dialing)
Station Lock (lets users enter a code to "lock" their extensions)
Optional Partner ACS Products:
Three Voice Messaging Systems
1. Basic Partner Voice Mail Card
- Two port , 4 mailbox or 12 mailbox models
- Automated attendant with greeting automatically routes incoming calls
- Message light activation
- Password protection, message time & date stamp, personal mailbox greeting
- 10 minute message storage per mailbox
- Answer only mode for announcement mailboxes (no message recording)
- Fast forward, Rewind, and Skip message features
- Remote access for messages or administration
2. Advanced Partner Mail VS
-Up to 4 ports and 40 mailboxes
-20 minutes storage or 40 messages per mailbox
-Automated attendant with day and night bilingual greetings
-Call screening let's you decide if you wish to take calls or take a message
-Call recording let's you record and store your calls
-Two "announcement only" mailboxes with the auto attendant.
-Message forwarding to multiple mailboxes with comments attached.
-New and old message status. New messages played first.
-Message lamp notification for new messages.
-Message notification by out-calling to a pager, home, or cellular number
3. Deluxe Partner Mail (partial feature listing)
-Up to three automated attendants
-Grows to 6 ports and 100 mailboxes.
- 5, 10 or 30-minute mailbox storage.
-Dial by name directory or prompted transfer to extension
-Group lists for message forwarding
-Mailbox coverage for calling groups or hunt groups
-Multiple personal greetings
-Flexible system operator & personal operator assignment for each extension
-Sub-menus (up to 99) from the auto attendant
Passageway Direct Connection (CTI) software
This program links your telephone and your computer using a Windows interface to automate incoming call handling and out-calling from your computer desktop. Use with caller ID to automatically activate customer records ("screen-pops") in leading computer database applications such as ACT and Goldmine.
Related Products: Headsets, music/message-on-hold systems, Uninterruptible Power Supplies (UPS), teleconference systems, paging systems